luxury homes had plunged in the wake of the 2008 collapse of Lehman Brothers Holdings Inc. and the ensuing credit freeze and recession. Average prices of homes in Londons most expensive neighborhoods fell 25 percent in 2008, while those in the countryside declined 20 percent, Knight Franks Bailey said. Mortgages of more than 500,000 pounds to home buyers dropped by almost 50 percent between 2007 and 2008, according to the Council of Mortgage Lenders . Affluent Foreigners Londons property market began to recover in 2009, in part because of affluent foreigners seeking a haven from turmoil in the Middle East and the wider European debt crisis. These buyers, attracted by mansions a short walk from Harrods and Buckingham Palace, helped push the price of luxury homes in central London up 23 percent since their last peak in the autumn of 2007. Prices of prime country homes remain down 20 percent, according to Knight Frank. Now the recovery is spreading beyond London. The number of homes sold in the U.K. reached the most in nearly four years in July, according to the Royal Institute of Chartered Surveyors . That helped push the value of prime country homes up for the third consecutive quarter, Knight Frank said. House prices in affluent areas about an hour from London climbed 1.6 percent during the three months, while those in the remainder of the south of England climbed 1.2 percent, according to Savills. Homebuilders Rise U.K.s homebuilders have been among the biggest beneficiaries of revived housing demand. An index of the companies rose 0.9 percent today to close at the highest in two months. That extended its advance to 48 percent this year, compared with a 10 percent gain for the FTSE 100 Index .
Sci-fi comic author Douglas Adams's Highgate gravestone is so basic it's nearly anonymous. HIDE CAPTION The best tombs in London belong to the famous and lesser known alike Explorer Richard Burton rests in extravagant digs One coffin hangs permanently in the air Author Douglas Adams wastes few words on his headstone (CNN) — "When a man is tired of London, he is tired of life," memorably proclaimed Samuel Johnson. Whereupon that man — presumably — is buried in London. Lucky him (or her). The city has some of the best, most atmospheric, cemeteries in the world. Luminaries from Karl Marx (Highgate Cemetery) to the suffragette Emmeline Pankhurst (Brompton Cemetery) to Johnson himself (Westminster Abbey, which is really not your everyday resting place) are buried here. Being famous, though, doesn't guarantee an interesting gravestone. Some of the best tombs belong to the largely forgotten, people who nonetheless seemed to have had big plans for the hereafter. Tim Sayer: The big sleep Highgate is the most famous of London's great Victorian cemeteries, bursting with big names and bombastic memorials. Yet in choosing her favorite gravestone, Catharine Arnold, author of "Necropolis — London and its Dead," picks someone removed from the worlds of literature and the arts, with which Highgate is normally associated. Tim Sayer's tomb, guarded by his "immortal dog … faithful to the last [is] a great example of Victorian animal memorial art," she says. Sayers was a bare-knuckle boxer, whose final fight is considered to have been in effect the first boxing world championship.
London's coolest gravestones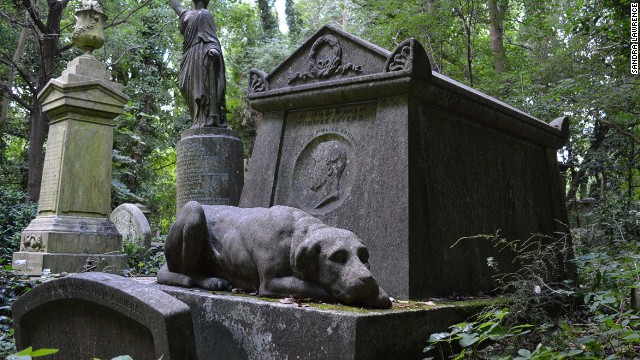 Any collaboration between them can hardly help but intrigue. Theres plenty of activity in the commercial sector, too. Anyone with fond memories of Alan Parkers 1991 film The Commitments, based on Roddy Doyles novel about a Dublin soul band, can indulge in some sweet soul food at the West Ends Palace Theatre, where Doyles own musical adaptation of his book is currently in previews. December brings Stephen Ward, inspired by the 1960s political scandal the Profumo Affair, which unites Andrew Lloyd Webber with Christopher Hampton and Don Black, the team behind Sunset Boulevard. And Lloyd Webbers erstwhile writing partner, lyricist Tim Rice, has also been busy, on From Here To Eternity, based on James Jones classic novel, which has just begun previewing. With the cooling weather came a mixed bag of classical theatre. The actor of genius, Mark Rylance, donned his directorial hat to deliver a woefully creaky Much Ado About Nothing at the Old Vic, with under-powered performances from James Earl Jones and Vanessa Redgrave; those two living legends can be seen struggling on with it until the end of November. Meanwhile, Michael Grandage, the former artistic director of the West End producing powerhouse the Donmar Warehouse, gave us an exuberant Midsummer Nights Dream, oozing free love and Burning Man atmosphere and starring Sheridan Smith an actor fast becoming a national treasure as a pulchritudinous Titania, and Little Britains David Walliams as Bottom. That continues at the Noel Coward until 16 November. And the following month brings Grandages take on the bellicose poetry of Henry V. Jude Law, in the role of the charismatic king, pretty much guarantees returns queues round the block. Also raising the star power and sex appeal of the Bard this season is the Royal Shakespeare Company, which in December brings Gregory Dorans production of Richard II to the Barbican Theatre, with David Tennant as the monarch (a fine actor still best known to British audiences for BBC TVs Doctor Who). Meanwhile at the Donmar, Josie Rourke directs a new staging of the bloody Roman tragedy Coriolanus. Its a good season, too, for Ibsen fans: Carrie Cracknells wildly acclaimed A Dolls House, with its claustrophobic, revolving domestic-prison set and a blazing performance from Hattie Morahan as Nora, continues until 26 October at the Duke of Yorks. And from 3 October theatre veteran Richard Eyres new production of Ghosts is at the Almeida.