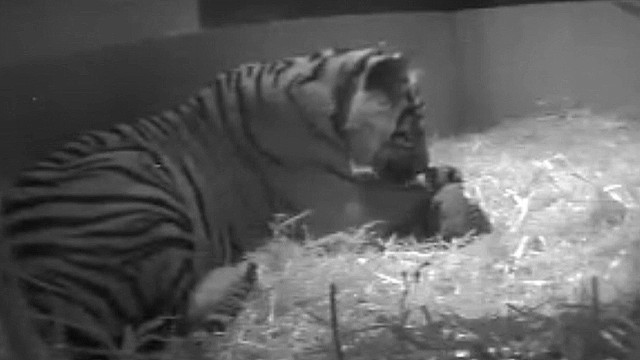 STORY HIGHLIGHTS Keepers "heartbroken" as tiger cub found dead in enclosure at London Zoo Newborn animal believed to have drowned in pond after mother carried it outside Three-week-old cub was first Sumatran tiger to be born at zoo in 17 years London (CNN) — Keepers at London Zoo are "distraught" after a newborn tiger cub — the first Sumatran tiger born there for 17 years — drowned in a pool at its enclosure. The animal was born to five-year-old first-time-mom Melati just three weeks ago, and its arrival was greeted with huge excitement and celebration at the zoo, where experts were "over-the-moon" about the birth. But on Saturday, keepers raised the alarm when they could no longer see the young tiger on cameras inside its den; a search of the enclosure revealed the animal's body. It is thought Melati carried the cub out into the paddock area of the zoo's "Tiger Territory," where it fell into the pond and drowned. Meet the newest resident at London Zoo Animals weighing in at London Zoo Wanted: Female for last surviving fish "We're heartbroken by what's happened," said London Zoo's Malcolm Fitzpatrick. Melati is said to be a very nervous tiger who prefers routine, and experts at the zoo had opted to allow her full access to the whole enclosure fearing that any changes to her environment might cause her to injure or abandon her cub. "At the time we thought it was in the best interests of Melati and her cub to allow her continued access to the full enclosure as normal," Fitzpatrick said. "We didn't want to put her on edge by changing her surroundings or routines, in case she abandoned or attacked the cub." London Zoo is to carry out a full review of the circumstances which led to the cub's death. "We would do anything to turn back the clock, and nobody could be more upset about what's happened than the keepers who work with the tigers every day," said Fitzpatrick. They are devoted to those tigers and are distraught." The zoo had kept Melati's pregnancy a secret for about 105 days before her cub was born on September 22. Hidden cameras were installed in her enclosure to keep watch over her throughout, and the speedy birth, which lasted just six minutes, was also caught on video.
Letter from London: A guide to winter 2013 in the West End
It plays until 9 November. For something sillier, and as English as warm beer and cricket whites, punters with a taste for nostalgia can opt for Jeeves and Wooster: Perfect Nonsense at the Duke of Yorks, running from 30 October. Romantics will struggle to resist Jumpers for Goalposts, a touching gay love story among the players on a hopeless pub soccer team, by the rising young writing talent Tom Wells. It plays at the Bush the diminutive fringe new-writing venue with a mighty reputation from 26 November. Likely to be far knottier is nut, the new play by incendiary writing talent debbie tucker green. The lower-case styling of her name and the works title are indicative of her terse intensity; her previous pieces, jaggedly poetic dramas on subjects including urban street violence and domestic abuse, have been short, sharp and shocking. nut about which advance publicity reveals little, but which may, judging by the cryptic clues, have to do with identity and psychological disorder runs at the Shed, an experimental pop-up space at the National Theatre, from 30 October. Booking for it may be something of a blind date, but on tucker greens past form its well worth the gamble. For the more risk-adverse, three plays of established excellence return. Arnold Weskers Roots, the centrepiece of his great Socialist trilogy, is at the Donmar. And Mojo, the play about London gangland that made the name of writer Jez Butterworth (Jerusalem) and was a key text in the hugely influential 1990s In-Yer-Face drama movement, returns to the West End, staged by Ian Rickson, who directed the original Royal Court production.
London cabs will promote Philadelphia
The campaign launched this week by the city, the airport and the Philadelphia Convention & Visitors Bureau is promoting Philadelphia as a destination for trade, conventions and leisure travel. Next month Mayor Michael Nutter will take a trade mission to London and Tel Aviv, Israel. In London, hell attend the World Travel Market trade show, where some 47,000 travel professionals are expected. Philadelphia will have a group at the London show, including Jack Ferguson , president and CEO of the Philadelphia Convention & Visitors Bureau. The delegation will host an event for airline executives, urging them to add international flights to Philadelphia International Airport a move that could net business and leisure travelers. Through these relationships, we will attract new international travelers, students, investment and trade opportunities for Philadelphia businesses, and create new jobs for Philadelphians, Nutter said. Nutter and Ferguson will attend the World Travel Markets ministerial dinner on Nov. 5. It will include tourism ministers from around the world. The magnitude of this mission is powerful with so many partners from various business sectors coming together to promote our great city as a hub for trade, travel, education and innovation, while positioning Philadelphia a world-class destination, Ferguson said. As part of the promotional effort, 11 London taxis have been wrapped with Philadelpia messaging and images, which will also appear on interior headrests and taxi receipts.